Home | E-150 | F-150 | F-250 | F-350 | Sonoma | X-Tra
<![if !vml]>

<![endif]>
Well here is my 1994 Sonoma SLS pickup. My brother bought this to use the body to update his boxy style S10 on his mud truck. He then couldn't pass up the opportunity to buy an extended cab pickup. So this one got set out back for a year until my dad and I decided to fix it up to serve as my daily driver.
Now with a little cash and time invested in it, it is quite a nice truck. The 4 cylinder and 5 speed make for good gas mileage and the a/c blows ice cold.
Below is our method for cleaning up the wheels. The clear coat needed to be removed before any polishing could be done. This was made easy by using the 2hp Leeson motor from the table saw to spin the wheel on the front hub. This removed the clear coat fast and also polished the wheel quickly. Then the insides of the spokes were painted a metallic green to somewhat match the exterior. Finally fresh clear coat was sprayed on to seal the wheel like new.
The clear coat on the hood, front fenders and bumpers was starting to peel off badly. Naturally we sanded, primed and painted with new metallic teal paint.
One interior convenience upgrade was the sound system. Polk dB series two ways were added to the doors and dash. Also a factory Delco AM/FM/CD player was sourced off eBay to keep a factory look.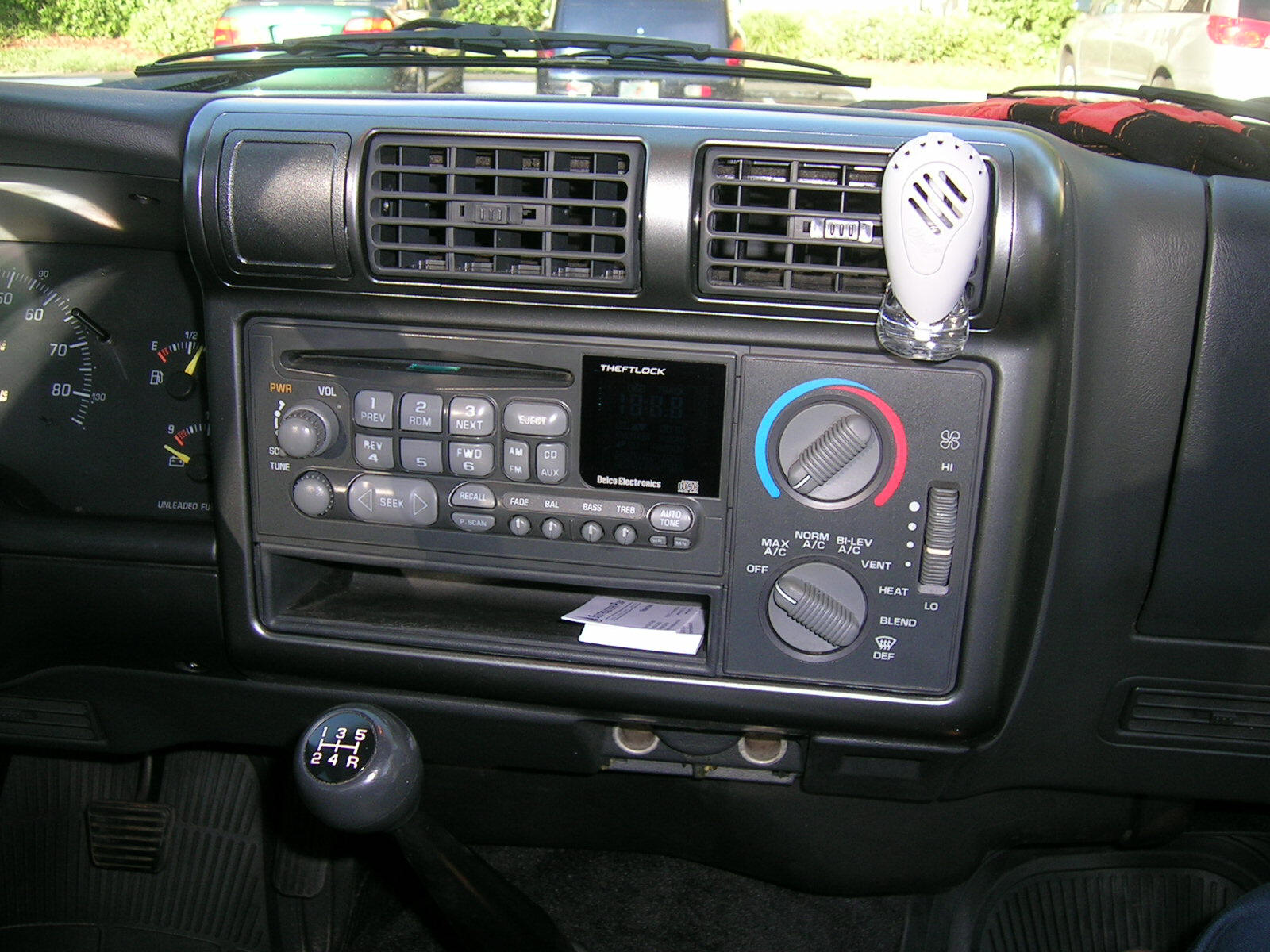 And finally, the finished product.
Update 12/21/2008: The truck was in need of a new clutch pressure plate, flywheel, disc and throw out bearing. An Advance Auto Parts clutch kit along with some cleaning of the other parts and it works like new again. The world class T-5 is more than plenty strong for the 4 cyl.
Update 4/11/2009: the Sonoma is now stopping with rear disc brakes!
Update 5/23/2009: the Sonoma is now stopping with 98+ up Blazer dual piston front calipers!
Here is the truck now as of Memorial Day weekend 2009. I guess I will be keeping this truck for a long time to come. The next thing it will probably need will be an engine. I should be on the lookout for a 5.3 or 6.0 LSx V8!
Just before Labor Day weekend 2009, I decided to get the rear sliding window replaced with a solid. It turns out the slider I had was aftermarket made by CRL. No wonder I could never find any like it in a junkyard! Here it is after the install. Notice the polishing to the paint that needs to be done since the slider frame overhung the cab. This window has a 15% internal tint. Soon I am going to get another 15% layer to make it even darker.
Update 3/14/2010: The driver's side front unit hub was making noise. I did not know how many miles were on the junkyard hubs when I bought them for the upgrade. This one that died is a genuine Timken whereas the passenger side has already been replaced with a China unit. So rather than buy an expensive Timken I bought another China unit so now they match. Only time will tell as to how long they last.
Update 8/9/2010: I noticed water on my passenger side floorboard. I thought maybe it was the heater core going bad. But when looking at the water, it was not engine coolant but plain water. My first thought was my new windshield was leaking. So we did the garden hose test and nowhere did it leak. A few days went by and I looked online for an anwer. Turns out there is a TSB for all years S10s, Sonomas, Blazers, Jimmies and Bravadas which explains this same leak. Leaves, trash or an excess buildup of seam sealer can block off the water drain hole acting like a dam which causes the water to spill over the A/C blend door and trickles down the inside firewall and settles right under the carpet making for a nasty mildew/moldy smell after a short while.
So how does one get to this "drain hole"? Well it's more difficult than you'd think. There is no way to get to it without removing the passenger side fender. It really sounds harder than it was as there was only a handful of bolts that needed removing. We did this on a Saturday and took about 3 hours to complete. Check out the crud that came out of the plenum: dried, petrified leaves, dirt, mud, maybe some bugs, all rotting inside and blocking the drain hole. My truck didn't have an excess buildup of seam sealer, so the only reason I could see why the trash wasn't escaping was due to the heavy weight inside the rubber check valve. I decided to rip it out. That way the leaves will blow out when at highway speeds. Also the water will drain out better.